*Non member registration for workshops - contact Vice President, Meridel Clement via email: meridel@suddenlink.com
SHWS's Guest Artists in 2013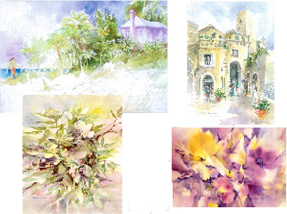 March 6, 7, 8, 2013
Bonnie Broitzman, Minnesota's international water color artist will teach the fine art of water color.
May 2, 2013
PriscillaKrejci's work is mainly impressionistic and includes a variety of subject matter influenced by travels at home and abroad.
She is a signature member of the American Watercolor Society, Southwestern Watercolor Society, and the Western Federation of Watercolor Societies.
http://krejci.fineartstudioonline.com/
June 13 and 14, 2013
David Tripp
With watercolor block and digital camera in the seat beside him, Texas watercolor artist David Tripp drives his Jeep down county roads, seeking small towns and open countryside for settings to paint. From childhood, David's eyes have been filled with wonder and a sense of curiosity, taking in the world around him and seeking ways to record these sensations.
http://recollections54.com/ or http://davidtripp.wordpress.com/
September 12 and 13, 2013
Sharon Rouse has taught adult watercolor and sketchbook classes and presented short watercolor workshops. She uses her sketchbooks and journals to record ideas for future paintings. Her work has been accepted into various shows and is in private collections. In addition to her art, she is a docent at the Denver Art Museum and a supervisor for art student teachers at Metropolitan State College in Denver.
Star Harbor Watercolor Society