Click on the images to enlarge.
The images on this page are copyrighted and may not be duplicated without the permission of the artist.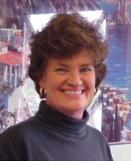 Born and raised in Mobile, Alabama, now retired and living with husband in Texas. Oils and acrylics have been Meridel's medium of choice for several years. Recently, water colors have won a large part in her painting creative time. She has taken several workshops but is mostly a self-taught artist, painting every day, thoroughly enjoying the freedom to do what she loves – trying to capture just a small bit of the beauty around us. Her paintings have sold in over 14 states, hanging in private and public collections and illustrated book covers. One of her historical works was selected by the Athens, Georgia Historical Society for display during the Georgia bicentennial.
Contact Meridel at meridel@embarqmail.com
Star Harbor Watercolor Society