SHWS OFFICERS 2023

President Sue Lynn Trent
Vice President Roylynn Ormand
Secretary Sharon Benningfield
Treasurer Selwyn Wilson


MONTH DATE PROGRAM

January 6 free paint
13 free paint
20 Business meeting
27 mat & frame day/critique day

February 3 free paint
show forms due to Rosalie
10 deliver art for show 10-2
12 "For the Love of Art"Show and Sale
17 free paint/
paymt deadline Sharon Serrago
workshop $100
24 free paint/critique day

March 3 cancellation deadline Serrago
workshop
10, 17, 24. free paint
31 free paint/critique day

April 6-8 HCAC Show
7 Holiday—Good Friday
12, 13, 14 Serrago workshop
21 free paint
28 free paint/critique day

May 5 Business meeting/
select nominating committee
12, 19 free paint or DVD
26 free paint

June—August. No programs
free paint on Fridays

September 1 Holiday—Labor Day wkend
8 Business meeting/
present slate of officers
15, 22 free paint
29 free paint/critique day/

October 6 free paint
13 free paint
20, 27 free paint
30 free paint/critique day

November. 3 Business meeting/elect officers
10, 17 free paint/cards
24 Holiday—Thanksgiving

December 1 Christmas Get Together
8 free paint
15, 22, 29 no painting—holidays

Note: November workshop is not yet secured.

The Star Harbor Watercolor Society meets at the Star Harbor City Hall,
99 Sunset Blvd., Star Harbor, TX 75148

Directions: Turn onto FM3062 just north of Malakoff at the Fire Station on TX Hwy 198; continue past the high school on into Star Harbor; go left at Y; city hall building is at golf course.

Star Harbor Watercolor Society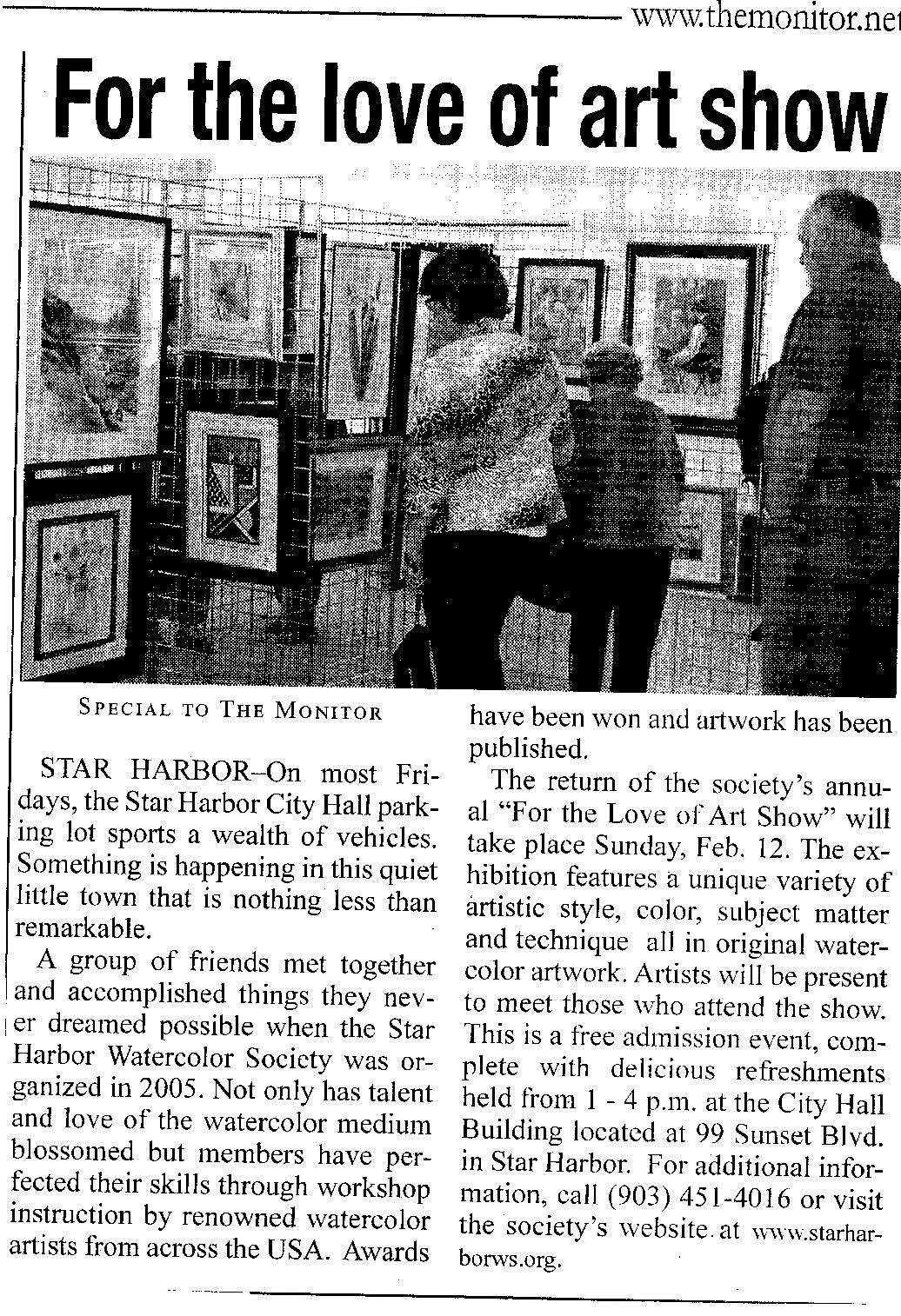 Click here for a more legible and printable copy.