Click on the images to enlarge.
The images on this page are copyrighted and may not be duplicated without the permission of the artist.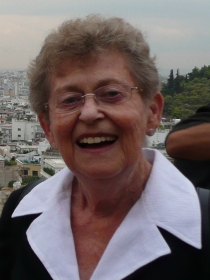 Born in Calgary, and raised in small towns in Alberta, Canada, her most memorable town was Castor, Alberta , for two reasons. First, W.O. Mitchell (famous author) was her high school teacher and principal. Secondly, she got to take private, oil-painting lessons from a talented neighbor.

In 1945, the war ended and her father (a banker) and her family moved to Winnipeg, Manitoba where she entered university. Torn between Art and Medicine, Myrle had to make a decision… she had no desire to be a starving artist; so the way was paved into medicine when she won the gold medal in Science Honors, 1950. She was one of only 4 women (and 96 men) accepted that year.

The next 60 years flew by in her life in the operating room, filled with drama, excitement, and history being made with all the new advances. Dr. Gard was able to combine her career with marriage and four children, with the help of a her husband and a dear, devoted housekeeper.

Upon retirement at age 80, she read of an art teacher, Leona Brown, who travelled with her art students to foreign places in order to paint watercolor pictures in nature, "on plein air." Myrle phoned, and with great luck, there was one spot left for her and my daughter, Diane, to go to Greece, Santorini and Mykonos. Later, she joined Diane to paint in Texas, taking workshops in oil painting with Bruce Peil, and later watercolor workshops with Bonnie Broitzmann, Ann Moye, Davilla Harding, and others in Star Harbor. As a beginning painter, Myrle has won first and third place ribbons at the Henderson County Art Show in 2010. She says that art now provides the drama, excitement and history for next 60 years!
Star Harbor Watercolor Society